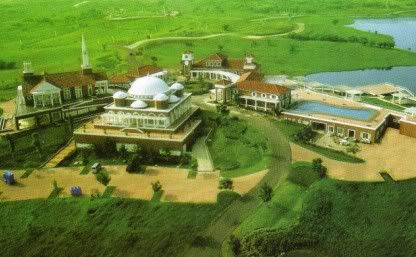 As a sign of reverence of life on his services,
San Diego Hills Funeral Park (SDH)
in Karawang, West Java, figures to give the honor to the I
ndonesian football
Endang Witarsa, who died in April 2nd 2008 and figures to be the first in the garden area of hero cemetery, SDH. Endang Witarsa has been buried in to SDH on 6th April 2008 and the award was given to him because Endang has been rendered for the progress of soccer in Indonesia. Through the cold hands of Endang Witarsa then birth popularize name in the world such as Indonesia soccer Sucipto Suntoro, Santa Aliandoe, Abdul Kadir, Iswadi Idris, Rully nere, Ronny Pattinasarani and Ronny Pasla.
San Diego Hills is a modern cemetery
has 500 hectares wide of land, there is include inside of special garden cemetery for heroes of the nation called "
Heroes Plaza
" broad contours of three hectares with valley overlooking the lake. In its development, Heroes Plaza is devoted to the community that existed in various ways, but less attention from the government.



San Diego Hills offers three categories memorial park

area such as

Earth

, it is burial area, designed with the perfect position that direct to Mecca,

Physical Homes

, is areas that allow the burial structure, designed by calculation as harmony to the appropriate environment, and

Universal

, is the modern areas of the cemetery, which has been done by many countries with advanced systems, tidy, efficient and keeping a high quality environment.

By maintaining the original contours,

San Diego Hills Memorial Park is designed much of an impression

because the burial place of the area is designed as a full range of facilities exceed the needs of a generally modern garden cemetery built in Indonesia.



San Diego Hills will have Musoleum

(cemetery on the land where the coffin is placed in a concrete room in the building) is the first in Indonesia. Also Columbarium, for burial on the land for ashes cremation, placed in a niche of a room with limited wall. San Diego Hills Memorial Park has the National Heroes Garden features, a cemetery area is to respect the services of the national arts, culture, and literature, education, government and sports.

Feel free to subscribe via
Rss Feed
or enter your
e-mail
below to have the latest update !